#EVERYONEBELONGS
Bully Free Community Alliance
This amazing foundation uses donations to implement a number of initiatives and supports for students and families. It also works with Southlake Regional Hospital to bring more support for children and adolescents struggling with mental illness and addictions. Thanks to our patients efforts last year, we are overjoyed to support this foundation again this year.
SEE HOW YOU CAN BE A PART OF A BULLY FREE COMMUNITY!
CLICK THE POSTER BELOW!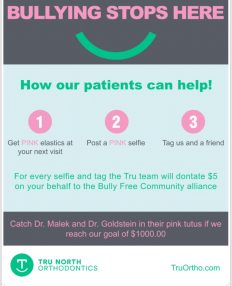 Get your smile on!