Invisalign
For some people, the idea of having braces is unappealing. Many people would prefer to have crooked teeth than be treated with braces. With Invisalign you can be straightening your teeth without anyone knowing, this is appealing to many teens and adults. There are dozens of practitioners that offer Invisalign. But the misconception many people have is that it's simply some kind of plastic 'tray' you slip over your teeth; and that does the trick. Invisalign is a technique; plastic does not move the teeth, but the skill of the practitioner designing your Invisalign appliance does. It's very important that you are getting treated by an Invisalign provider with the experience to ensure you get perfect results. The doctors at Tru North Orthodontics have been providing Invisalign treatment since 2003 and have been recognized as an elite and top 1% provider since 2013.
How Does Invisalign Work?
Invisalign is a completely customized appliance that is designed by your doctor. Once you choose to proceed with Invisalign, we will use one of our 3D scanners to take pictures of your teeth. When the design process has been approved, you will be given a series of clear, custom, low profile, invisible trays to be worn for approximately 22 hours per day to be most effective. Every week or two you will be changing your aligners and your smile will be changing before your eyes!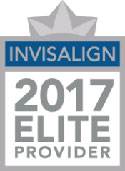 Benefits of Invisalign
The most obvious benefit of Invisalign is esthetics. The aligners are clear, so hardly anyone will notice that you have your trays in your mouth while you are straightening your teeth!
Unlike traditional braces, Invisalign doesn't have to impact the comfort of your everyday life, or change your lifestyle in any way. They're comfortable to wear throughout the day, but they are also removable when necessary. Whether you want to enjoy a bag of popcorn at the movies, or have an important event, you can remove the aligners when necessary, and slip them back on afterwards. It is recommended that you wear the aligners as much as possible to ensure the best results.
Invisalign is designed with you in mind and is incredibly convenient. You'll change out the aligners every week to two weeks for a new set; it is designed to help gently shift your teeth into place with each aligner. Most of our appointments are scheduled every 8-12 weeks, so if you have a busy schedule or even if you live out of town Invisalign would be a great option for you.