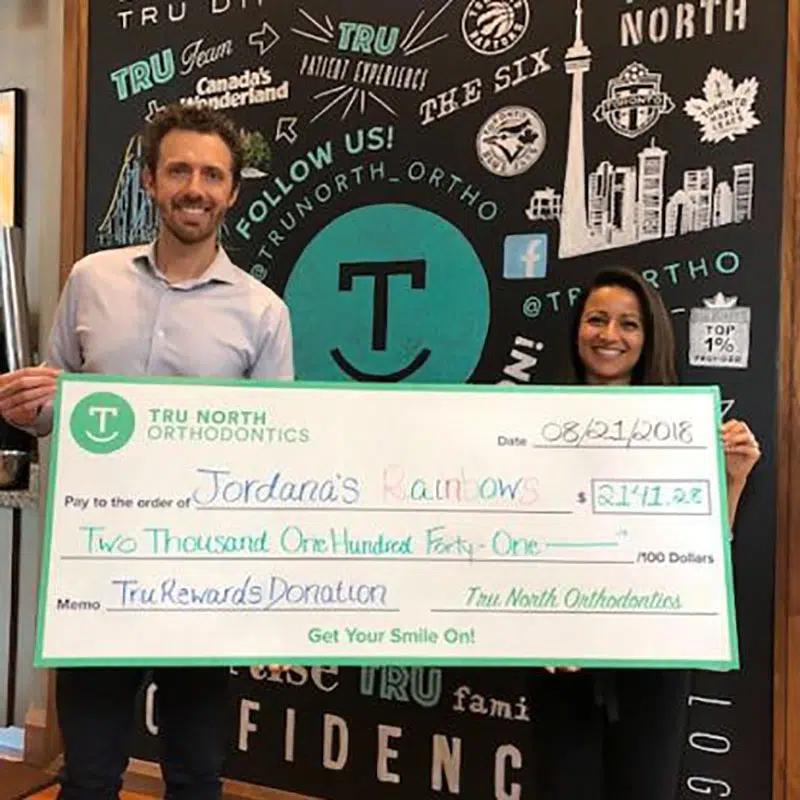 An Amazing and Tru Difference
Jordana Fiorini was a patient of Tru North Orthodontics who passed away on January 22nd 2016 at the young age of 10.  Jordana was diagnosed with Diffuse Intrinsic Pontine Giloma (DIPG), a cancerous brain tumour that affects children in their early years of life.
DIPG is an underfunded and underrepresented disease that has a 0% survival rate.
The opportunity to give back is something that is near and dear to the heart of the Tru experience.
Our patients receive points throughout treatment at every visit. For every reward point that our patients donate, Tru North matches point for point to donate to Jordana's Rainbows; in honour of Jordana Fiorini.
We are so proud to announce the amount donated by patients last year was $1070.64 which the Tru team is overjoyed to match and present Jordana's Rainbows with a cheque for $2141.28!
Thank you Tru Fam for opening your hearts and making a Tru difference!
To learn more about how you can help, visit @jordanasrainbows on Instagram.