Back to School Drive!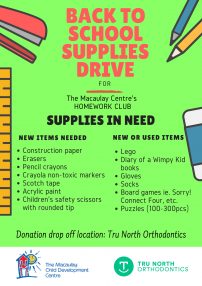 We know what you're thinking; it's summer vacation, don't mention back to school!

But it is never too early to help a child in need.

The Tru Squad is hosting a Back to School Supplies Drive for The Macaulay Centre's Homework Club.

All donations can be dropped off to our office.

Thank you in advance Tru Fam! 
Get your smile on!
For more information about The Macaulay Centre, please visit their website https://macaulaycentre.org/