Blanketeers Giving Hugs!
Who Needs A Hug?
"Amazing contribution from the fabulous team at Tru North Orthodontics!!!!! Many thanks for this contribution before Christmas 2017!! 35 blankets… beautifully crafted fleece!!!! On behalf of the babies, children and teens in need of a snuggly hug!! Thank you!!! " – Project Linus Team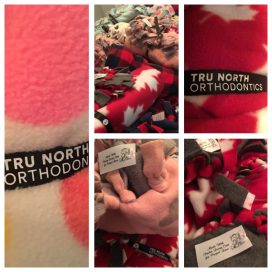 Dr. Goldstein and the Tru North team are still glowing from our afternoon as Blanketeers!
It is so heartwarming to know that children in need of a warm hug will be receiving these blankets.
We could not be happier to help support this organization!
Get Your Smile On!