Father's Day Giveaway!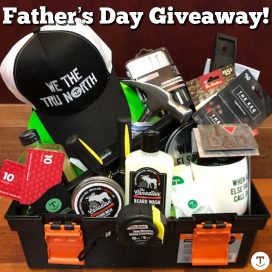 We're having a FACEBOOK Father's Day Contest GIVEAWAY!
Dads are amazing! It's time to show them just how special we think they are!
To ENTER, there are 3 steps:
1. LIKE the Facebook Post with this photo!
3. COMMENT on the Facebook post with 2 (or More!) Dads who you think would like to WIN this AWESOME  GIVEAWAY!
**[EXTRA ENTRY: SHARE the Post to your personal FB Page!] **

WHATS INSIDE?!
 $50 Gift Card – The Keg 
 $20 Gift Card – Canadian Tires 
 $20  Gift Card – Petro Canada
 $15 Gift Card – Tim Hortons
 Tru North Swag
 Handy Tools 
 Canadian Men's line product and more!
Get your smile on!